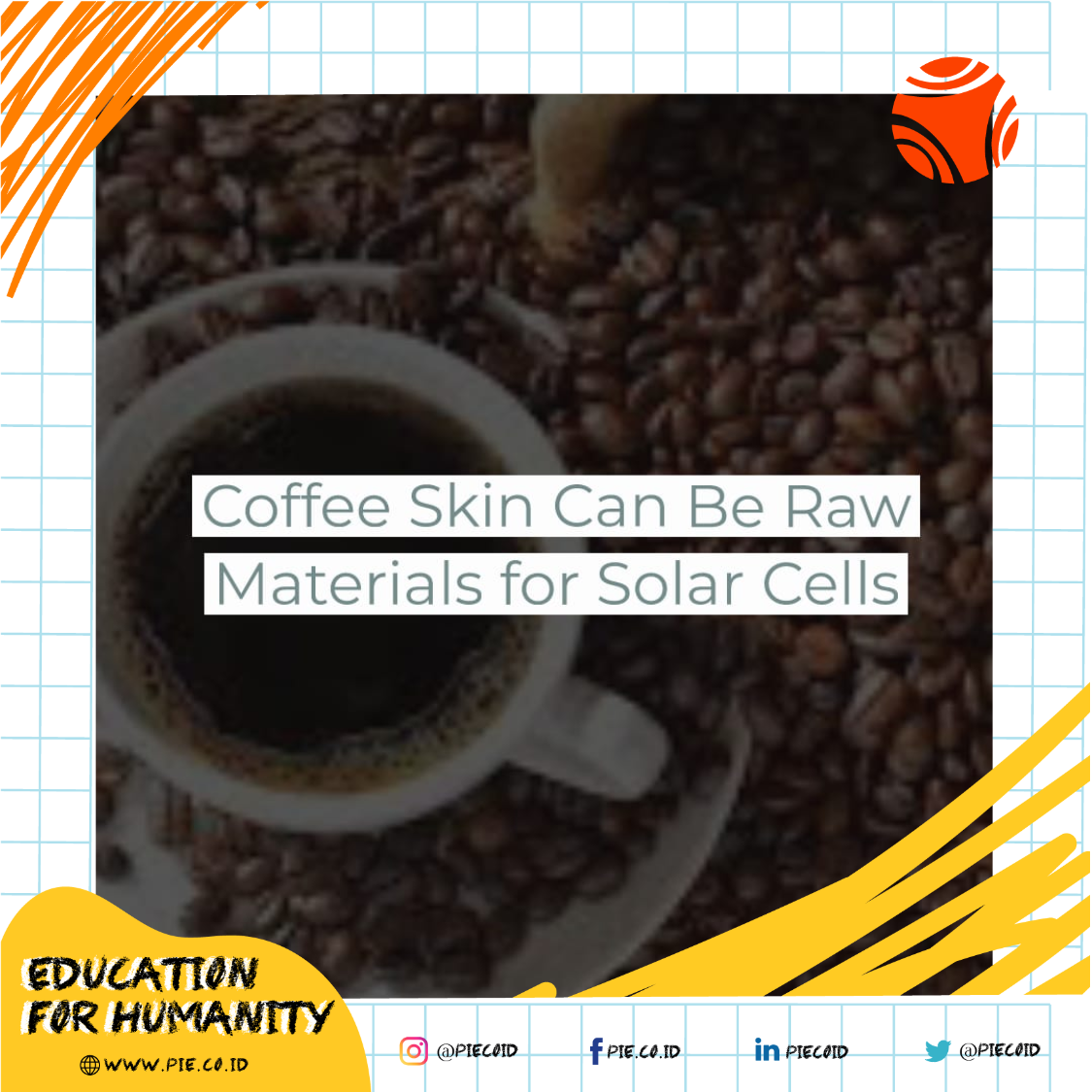 Ditangan Mahasiswa ini, Kulit Kopi Bisa Jadi Bahan Baku Sel Surya
Siapa yang tak suka kopi? Salah satu minuman khas Indonesia yang selalu mempunyai tempat di hati masyarakat. Diambil dari biji kopi pilihan dengan proses yang terbaik untuk menghasilkan kopi yang berkualitas. Tidak hanya biji kopi yang mempunyai nilai. Melihat keadaan di wilayah Malang yang memiliki potensi produksi kopi yang cukup besar sehingga menghasilkan limbah kopi yang sangat banyak. Hal ini menjadi pemicu ide untuk menggali lebih dalam potensi kulit kopi. Ditangan mahasiswa-mahasiswa Universitas Brawijaya Malang kulit kopi bisa menjadi salah satu alternatif energi terbaru dengan menjadikannya sebagai bahan baku sel surya. 
Dilansir dari antaranews.com dikatakan bahwa penggunaan kulit kopi sebagai bahan baku sel surya masih dilakukan dalam skala penelitian. Dengan adanya inovasi ini, diharapkan pemanfaatan limbah kopi tidak hanya sebatas menjadi pakan ternak juga akan tetapi juga dapat meningkatkan daya jual kulit kopi. Inovasi ini perlu didukung oleh semua instansi terkait. Meneliti dan berfikir untuk kemajuan kedepan tentu saja akan memajukan pola pikir mahasiswa dan meningkatkan kualitas pendidikan Indonesia. #EducationForHumanity
Prestasi seperti ini menjadi salah satu hal penting tidak hanya menambah wawasan tetapi juga menjadi nilai plus saat melamar pekerjaan nanti. Oleh karena itu, PIE platform penyedia identitas digital yang dapat menyimpan data seperti nilai akademik maupun track record prestasi -prestasi yang pernah dicapai selama di bangku kuliah. Selain itu dapat mempermudah perusahaan untuk melihat track record yang kita miliki karena data yang terjamin aman, valid dan tidak dapat dimanipulasi.
Bekerja sama dengan SSC dan Yonk berkomitmen untuk melakukan kegiatan-kegiatan sosial, dengan teknologi inovatifnya untuk membantu menciptakan dunia yang lebih baik khususnya dalam bidang pendidikan di Indonesia, Info selengkapnya https://yonk.io dan https://ssc.co.id
In the hands of this student, Coffee Skins Can Be Raw Materials for Solar Cells
Who doesn't like coffee? One of Indonesia's special drinks that always has a place in the hearts of the people. Taken from selected coffee beans with the best process to produce quality coffee. Not only coffee beans that have value. Looking at the situation in the Malang region which has a large enough coffee production potential so as to produce a lot of coffee waste. This triggered the idea to dig deeper into the potential of coffee skins. In the hands of Universitas Brawijaya Malang students, coffee skin can be one of the newest energy alternatives by making it as a raw material for solar cells.
Reporting from antaranews.com said that the use of coffee skin as a raw material for solar cells is still carried out on a research scale. With this innovation, it is expected that the utilization of coffee waste is not only limited to animal feed but also can increase the selling power of coffee skins. This innovation needs to be supported by all relevant agencies. Researching and thinking for future progress will certainly advance the mindset of students and improve the quality of Indonesian education. #EducationForHumanity
Achievements like this become one of the important things not only add insight but also become a plus when applying for a job later. Therefore, PIE is a digital identity provider platform that can store data such as academic grades and track records of achievements that have been achieved while in college. In addition, it can make it easier for companies to see the track record that we have because the data is guaranteed to be safe, valid and cannot be manipulated.
In collaboration with SSC and Yonk committed to carrying out social activities, with innovative technology to help create a better world, especially in the field of education in Indonesia, More info https://yonk.io and https://ssc.co.id
More Information
Education For Humanity